Nick Edwards – Proud to be DB
Name: Nick Edwards
Role: Operations Standards Manager
Location: Exeter
How long have you worked for DB Cargo?
I'm now in my 42nd year after starting from school as a driver's assistant. I was interested in trains but never considered working on the railway despite my father, grandfather, great-grandfather, great uncle and second cousin all working on the railway. I have been on the footplate since I started and passed for driving in 1983 at 21. I became a Traction Inspector in 1989. In 1995 I was working for Rail Express Systems which was bought by Wisconsin Railways. They then bought the three trainload freight company's which became English, Welsh & Scottish (EWS) Railways, so I have been with DB Cargo UK since it was formed.
One of my first memories of trains was, ironically, at the age of seven on a holiday at Remagen in the Rhine Valley. There were just two kids in a hotel full of adults which was run by the British Railway Touring Club. We were moaning that it was boring so we were sent across the road to the station to watch trains, which were obviously Deutsche Bahn's. I can remember seeing the big beige Class 103 Inter City electric engines either sweeping through or occasionally stopping. On one memorable occasion we were invited to climb up to the cab by the driver. Fast forward 41 years and as part of the ill-fated ICE train project, I was able to travel in the cab with Koln driver Wolfgang Brade between Mainz and Koln. I have remained friends with Wolfgang, working with him on the testing on HS1 of the new Eurostar Valero trains in 2014/2015.
What flows do you work on?
Having been Operations Standards Manager since 2008 and Professional Head of Operations, I guess I'm in involved in all flows although I have been Royal Train Officer since 2006 delivering approximately 200 special train journeys (including the 2012 Diamond Jubilee tour!)
I am also involved with charter trains and steam locos, as well as heritage diesel locomotives.
Another specialised flow is the Channel Tunnel, SNCF and HS1 traffic working with the French regulator, ORR and Eurocargo to ensure that DB Cargo is not only compliant but leaders in cross-border freight.
Testing of new trains and train systems are also an integral part of my role working closely with Sales to ensure new revenue and future opportunities. Included in this have been Class 374 Valero's for Eurostar and Siemens, Class 385 units for Scotland working with Hitachi and latterly working with Cross Rail and Great Western on ETCS and classic compatibility on the Great Western mainline and Heathrow airport spur. This included the first train to operate outside a protected zone using ETCS as the train protection system.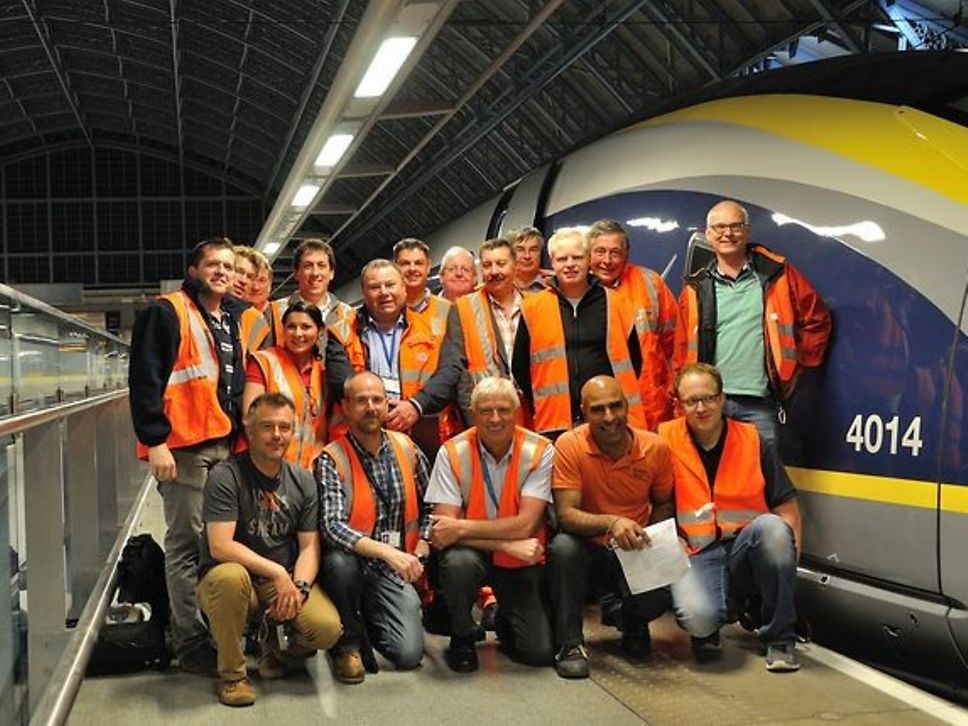 I also work closely with our Trade Union colleagues in developing new ways of working within existing terms and conditions.
Outside of DB, I chair the Railfreight Operators Group and am freight representative on numerous industry groups, including the Traffic and Operations Standards Committee (TOMSC) which is the governance group for the Rule Book suite of documents.
What makes you proud to be DB Cargo?
The people. I have made numerous friends and colleagues during my time on the railway. Rail is actually quite a simple concept; steel wheel on steel rail but without people and their dedication nothing would turn a wheel. I've always had the view that everybody is as important as each other in making the job run. One of my favourite observations is that the guy that swept up at Cape Canavarel could say he put a man on the moon!
How we deliver. We get on with things and do what we say we are going to do. Often this means finding different ways of doing things and challenging convention. We may not be all pomp and ceremony like some companies, however behind our shyness we get on with things and deliver; day in day out, through thick and thin. Rising to the occasion every time.
Some people know my mantra of the two 'p's'; Passionate and Proud. We are and we should be!
What is your favourite memory of your time at DB Cargo so far?
I have so many! If pushed, I guess it was in June 2012 on the Royal Train at Corby when I presented Her Majesty the Queen with a model of steam loco 70000 'Britannia' in her personal coach. This was to mark the Diamond Jubilee and 170th anniversary of the first Royal Train.
I also enjoyed posing with Paddington bear at Paddington Station when the Belmond Pullman was used to take disadvantaged kids on a lunchtime outing with a steam loco.
Then there was being approached on a windswept platform at Exmouth by a driver I had passed out 16 years before at Rugby and him thanking me for his career.
So many brilliant memories! I am proud to be part of Team Red!